Are you ready to take your summer look to the next level? Introducing the 7x5 Glueless Wig, the upgraded version of the popular 5x5 Glueless Wig. If you're seeking a flawless fit, seamless blend, and unmatched comfort, this is the wig for you. But what sets the 7x5 Glueless Wig apart from its predecessor?
Let's dive into the incredible features that make the 7x5 Glueless Wig a must-have accessory this summer:
7x5Lace Hairline: Say goodbye to visible hairlines! The seamless expanded lace front creates an invisible hairline, giving you a natural and undetectable look. Whether you're heading to the beach or attending a summer party, this wig will keep your hairline looking flawless.
Curved Front Design: The contoured design of the 7x5 Glueless Wig hugs your hairline for a perfect fit. No more worries about the wig shifting or slipping, even during outdoor activities. With this wig, you can enjoy your summer adventures without any hair-related concerns.
Bleached Knots: Achieve a seamless blend with your scalp effortlessly. The pre-bleached knots on the 7x5 Glueless Wig ensure that each hair strand appears as if it's growing directly from your scalp. This natural-looking effect will leave everyone wondering if it's your real hair.
Ventilated 3D Cap: Stay cool and comfortable in the summer heat. The 7x5 Glueless Wig features a lightweight and breathable ventilated 3D cap. Not only does it provide excellent airflow, but it also offers adjustable comfort, allowing you to customize the fit according to your preferences.
Now that you know the incredible features of the 7x5 Glueless Wig, it's time to explore the benefits it brings to your summer style:
Effortless Style: With the 7x5 Glueless Wig, you can achieve a variety of hairstyles effortlessly. This wig gives you the freedom to experiment and switch up your look as often as you like.
Time-Saving: Say goodbye to long hours spent styling your hair. The 7x5 Glueless Body Wave Wig offers a quick and convenient solution for those busy summer days. Simply put it on, adjust the fit, and you're ready to go, saving you valuable time without compromising on style.
Protection for Your Natural Hair: Summer heat, humidity, and UV rays can take a toll on your natural hair. By wearing the 7x5 Curly Glueless Wig, you can protect your hair from damage while still enjoying a fabulous and glamorous look.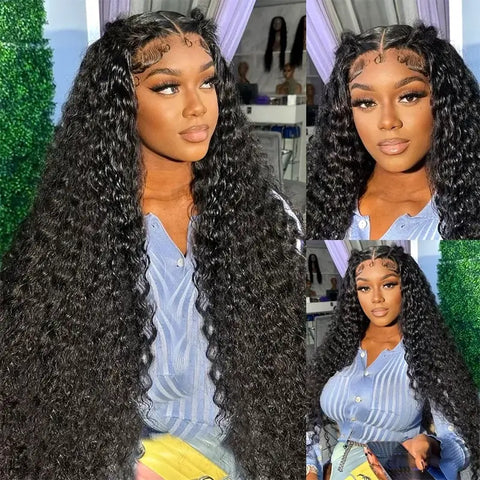 Confidence Boost: There's no denying the impact of a good hair day on your confidence. With the 7x5 Color Glueless Wig, you can feel confident and beautiful wherever you go. Embrace your unique style and let your hair do the talking this summer.
In conclusion, the 7x5 Glueless Wig is a game-changer for summer hair transformations. Its advanced features, such as the 7x5 lace hairline, curved front design, bleached knots, and ventilated 3D cap, ensure a seamless blend, perfect fit, and utmost comfort. Say hello to effortless style, time-saving convenience, hair protection, and a confidence boost. Upgrade your summer look with the 7x5 Glueless Wig and embrace the endless possibilities it offers!
Remember, when it comes to real wigs, the 7x5 Glueless Wig is the buzzword for a reason. Don't miss out on this summer's hottest hair trend. Shop now and experience the magic of the 7x5 Glueless Wig for yourself!